*This post contains affiliate links.
I'm been using Paula's Choice C15 Super Booster for a couple of months now so thought it was time for a review! I've tried a number of Vitamin C products over the years and there's only been a couple that have really stood out to me. This is one of them!
So what does Vitamin C in skincare do? It brightens your complexion, lightens dark spots and gives skin an all round boost to leave you glowing! It's packed with antioxidants which help protect skin from pollution. Vitamin C is notoriously unstable, meaning it often oxidises and looses it's potency. However it comes in many different forms, some more stable than others. One of the most stable and therefor popular forms, is L-ascorbic acid.
Which brings me onto C15 Super Booster! This serum contain 15% L-ascorbic acid, along with Ferulic acid (which is another anti-aging antioxidant), Vitamin E and Peptides. It costs £45 for 20ml. I like that it's 20ml rather than the usual 30ml that most serums are because you know you'll get through it before it's past it's best.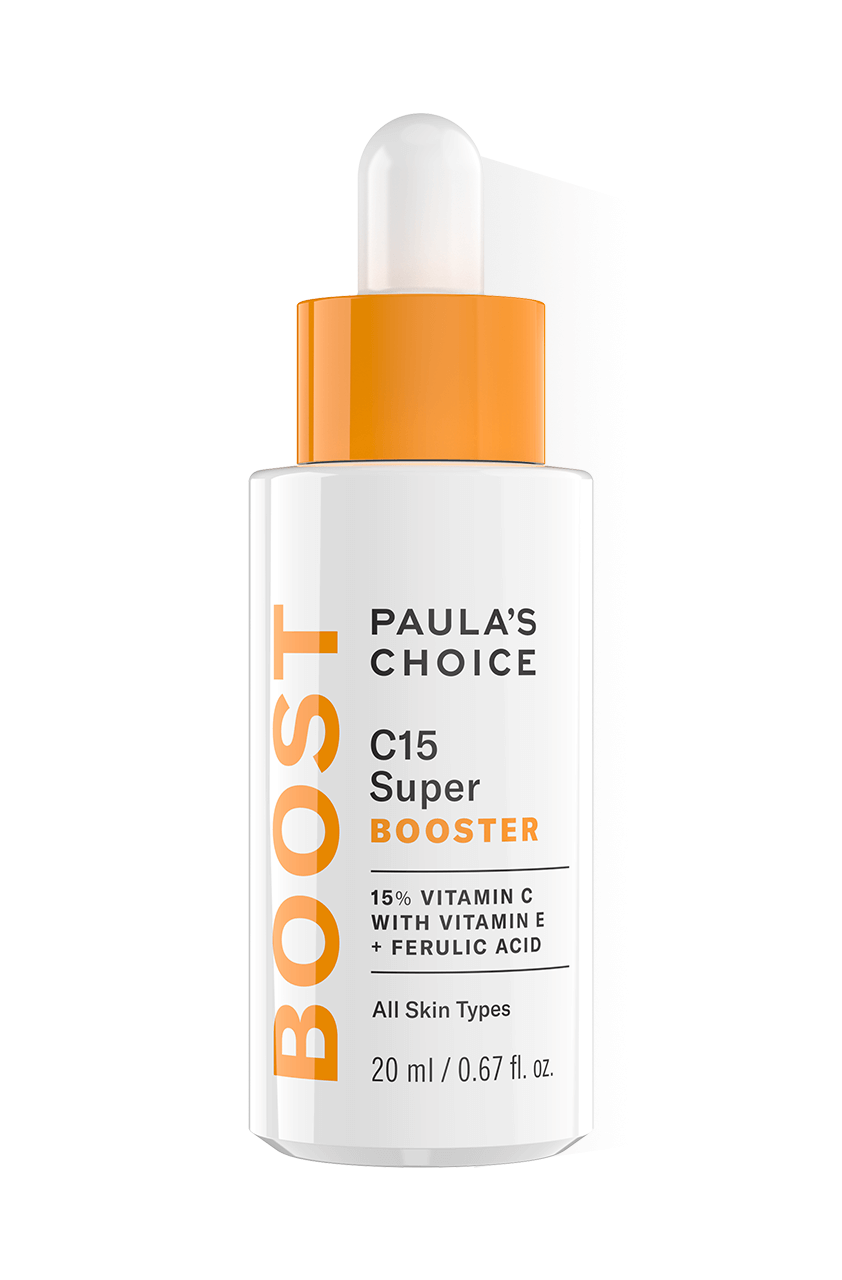 So, what's it like to use? The serum comes in a dropper bottle with a tight seal to it, which is great to help avoid oxidisation as much as possible. It was clear upon first use but darkened very slightly to a pale amber after a day or two. It's not got any darker since though. I've found this to be pretty typical when first opening a Vitamin C product. It has the consistency of water and it absorbs instantly into skin. As it absorbs so quick, I've found you do need a decent amount to cover your face. I apply it in two stages, using 1/2 a dropper to cover my face from below my eyes and my neck, then a couple more drops to cover my forehead and the rest of my eye area. It's a fairly hydrating serum too, which is always a bonus. I've been using it in my AM routine only, for the first month I used it pretty much daily, then every other day after that. I always apply it after my toner step, prior to another serum. I've found it works brilliantly with all products, there's been no pilling, no tackiness, no issues at all.
That's the main reason I didn't like Drunk Elephant's Vitamin C serum, C-Firma. It just felt gloopy!
Now onto the results - does it work? Yes! My skin has been clearer and brighter. My acne pigmentation clears up quicker that it would normally. All in all this serum lives up to expectations. I've found it performs just as well as Skinceuticles C E Ferulic which was my previous Vitamin C serum. Plus the Paula's Choice one is much more affordable!
Will I be repurchasing? Most definitely!

Paula's Choice C15 Super Booster is available from a number of retailers for £45 including - Paula's Choice, Skin City and Look Fantastic UK and USA. I've linked them all as there are often offers on.